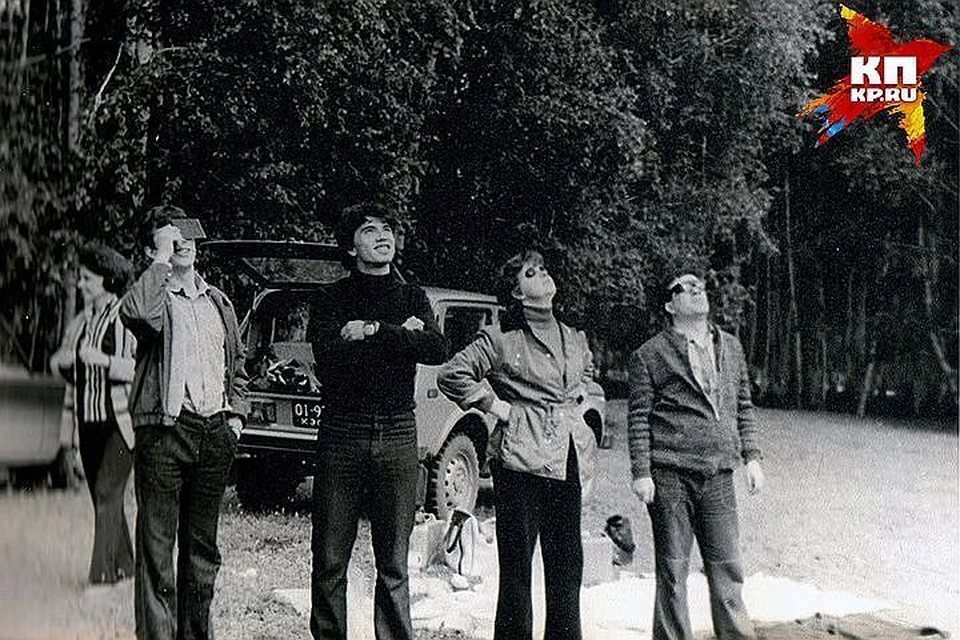 A photograph from the Hvorostovsky family archive.
The photographs which have not been seen and personal facts which have not been told: the unique Hvorostovsky family album is the first time on display at the Museum of Krasnoyarsk railroad. The thing is, famous singer's great-grandfather and grandparents had been railroad workers for all their lives.
So it was to the Museum of Krasnoyarsk railroad that the family passed several dozens of family photographs and documents. Dmitry Hvorostovsky is still an ordinary boy on them, and no one can see that literally the whole world will know him in time. We were fortunate to look at these photographs together with Dmitry Hvorostovsky's cousine Alexey Zarkhin, the only relative of the great singer who remains in Krasnoyarsk. We also called Dmitry's father, who had moved to Moscow. Today we will meet Dmitry's grandparents from his father's side, will see Dmitry's parents young, and small Dmitry.

A photograph from the Hvorostovsky family archive.
There is Dmitry Hvorostovsky's grandfather on this photo, Stepan Ivanovich Hvorostovsky. A primary school teacher. Ukraine 1929.
'My father is 20 years old, he is already a teacher. Then he got into Kharkov Institute of Railway Transport, the same institute my mother, Ekaterina Pavlovna, graduated from,' says Alexandr Stepanovich.

A photograph from the Hvorostovsky family archive.
Dmitry Hvorostovsky's father Alexandr Stepanovish, he is one year old. 1939.
'It was in Perm. We were living in a communal apartment. I can not remember these times, of course.'

A photograph from the Hvorostovsky family archive.
Hvorostovsky family. Ekaterina Pavlovna, Stepan Ivanovich. Children Alexandr and Nadezhda. Perm 1945.
'Judging from the medal on my father's chest, it is 1945. Parents are young and beautiful. We are in Perm. Three years later we will move to Krasnoyarsk. The photographs are old. When I look at old photos I feel younger. So it has been a pleasure to choose photographs for you.'

A photo from the Museum of Krasnoyarsk railroad.
Dmitry's father, Alexandr Stepanovich, 1946.
From this piano, you could say, began the story that in many years would give the world a great artist. It appeared in the family in 1946, when Dmitry's father Alexandr was just 7 years old.
It was wartime, part of the salary was being given in government bonds. And when the war ended thing lotteries were organized. The bond of grandfather, Stepan Ivanovish Hvorostovsky, won, but the winning had to be taken in a form of a musical instrument. Young Alex was asked jokingly, 'What would you like – a guitar or a piano?'. He shouted, 'Piano, of course!' He was crazy about music, he used to make "a piano" of two suitcases and pretend to play. So a piano was chosen, which was imported from Germany on reparation. All family members generation after generation learned to play this piano. The rare instrument, Wilhelm Velten, which was made in a city of Breslau at the beginning of last century, is still in the family, it is over a hundred years old now.

A photo from the Museum of Krasnoyarsk railroad.
The family of Hvorostovsky, the first photo in Krasnoyarsk, 1948.
This photo was taken in 1948, in 'Photostudio' not far from the Krasnoyarsk railway station. Actually, most of the album's photos were taken by Dmitry's grandfather, Stepan Hvorostovsky, or his father, Alexandr Stepanovich, who said,
'Father was interested in photography. He had a folding camera on tripod. Then I took a cameraman's place, he did not interfere anymore.'

A photograph from the Hvorostovsky family archive.
Alexandr Hvorostovsky with his mother Ekaterina Pavlovna. 1952.
'It is with mother in our flat on 10 Gorky's street. She was working in the building of railroad administration, opposite our house, came home for lunch or already in the evening, I set the camera delay timer and sat beside her. The railroad at that time was paramilitary, so mother and father had a rank, as well as a form.'

A photograph from the Hvorostovsky family archive.
Hunting. Left to right: Alexandr Hvorostovsky, Stepan Ivanovich Hvorostovsky, a driver, Anatoly Ivanovich Isaev, the director of Krasnoyarsk PVRZ (railway carriage repair plant, now ERVZ). 1953.
'They had known Isaev from Perm. When war began, my father and Anatoly Ivanovich came to a conscription office, but they were told, that they were more useful at the home front. They were both heads of departments on a factory. In 1948 we moved to Krasnoyarsk, some years later Isaev A.I. was transferred there, they met. I went on a hunt with father, it was interesting. After I did not fancy it, though I was a member of hunter's society but the interest had gone.'

A photograph from the Hvorostovsky family archive.
Dmitry with his mother, Ludmila Petrovna. 1963.
'My wife was an obstetrician-gynaecologist at that time. In a hospital during the day, in a maternity home during the night, and in the morning seeing patients again – she was absent for 32 hours. On this picture she is tired, and one-year-old Dima looks as if he has forgotten her during this time, he is pouting and does not understand who this lady is. She is happy to be with the baby again. I made a photo of this idyllic moment. She had five shifts like that in a month, it was hard work.'

A photo from the Museum of Krasnoyarsk railroad
Grandfather Stepan Ivanovich and grandmother Ekaterina Pavlovna with the grandchild Alexey Zarkhin. Sochi 1966.
'Grandparents regularly took both of their grandchildren, Dima and Lesha, to a summer vacation in Sochi. As railway workers they had free tickets. One-way trip took four days,' recalls Alexey, 'it was a whole epic:
Our grandparents on lower beds, and we with Dima on upper ones throwing something at each other. We playedn the beginning, then fought, then ran away, well, you can understand how it was when such a long way and two boys were stuck in a stuffy carriage!
When we grew up, we were separated. A year younger, I had a benefit for an airplane ticket, so we flew with grandmother, and Dima with grandfather travelled by train. Grandfather was working as a head auditor of the road, train crew knew him, when he was boarding a train, he was invited to the crew carriage. Dima sat alone in a compartment, when he was getting bored, he went to look for grandpa. He would find him playing "preference", grandfather liked this game a lot. Other men all red and tired whispered to Dima, 'take him away, take him!'

A photograph from the Hvorostovsky family archive.
Dmitry Hvorostovsky with father. Sochi, 1967.
'Dima is five years old. Every year we were trying to save 300 rubles to go to Sochi all three of us. That year I taught him how to swim. On a wild beach he was jumping into the water, I was moving farther, so he had to swim. And then we swam together to buoys. I worked a lot on this photograph, retouched it. It is of poor quality, but I really wanted to save it,' told us Alexandr Stepanovich.

A photo from the Museum of Krasnoyarsk railroad.
Grandfather Stepan Ivanovich with the grandson Alexey Zarkhin. 1968.
In a holiday house brothers not only played and misbehaved, but also seriously helped. Lesha and Dima had to do watering; grandfather, who could do everything, was teaching them men's work. By the way, for many years the family had been planting potatoes, - not in a holiday house, where there was not enough land, but on the railroad farming. Even when Alexey and Dima grew up, they tried to talk grandfather out, 'maybe we will buy a couple of potato sacks, - it will be enough for everyone?' But he was adamant: potatoes should be of their own growing!
'And while grandfather was alive (before 1986), both Dima and I were planting and digging it up without a word.'

A photo from the Museum of Krasnoyarsk railroad.
Grandfather Stepan Ivanovich with grandsons Dima and Lesha in a holiday house. 1970.
Hvorostovsky holiday house is still in almost pristine condition, it is located near Krasnoyarsk. Six hundred square metres, a small house with an attached veranda made of railroad cross-ties. In the childhood parents used to bring Dima and his brother there to grandparents.
'Parents were working, and we were with grandparents, until they started begging for us to be taken back,' laughs Alexey. 'We are just one year apart, so it was games or fights constantly.'

A photograph from the Hvorostovsky family archive.
Dima with mother Ludmila Petrovna and grandmother Ekaterina Pavlovna in the holiday house. Krasnoyarsk, 1968.
'I took this photo at twilight, it is not of such a good quality. We were building the holiday house ourselves. I was a third-year student, my friend and I were digging in piles, then we were sent to a collective farm. I wonder where bread and potatoes come from these days. We are not in the fields, so who harvests? So could it be done without us? Dima was in school during these times, at university they were not sent to the collective farm anymore. But they worked on building of arts institute. I remember that singers had to breath in construction dust. Why would not they send conductors, they do not need a throat, so why singers? And when Dima became a world star, he was giving charitable concerts to help finish the building of the institute. He was giving lots of concerts, for free. He himself studied in different buildings.'
'So is it difficult to name a place where Dmitry Hvorostovsky studied?'
'Yes, difficult. The institute did not have enough space, they were studying in different buildings, for example, in the building of pedagogical institute on Mira street, there they took examinations and set-offs. And there was a good amateur club, they sang almost professionally, took part in amateur arts festivals. I sang classical music, arias and romances, Dima started in a jazz band, I thought it was bad. I was against it, later Dima would say in one of interviews, 'to my father's horror, I got carried away by rock music. 'I was terrified, I did not understand this music. But then he came to his senses and started singing classical music. His first records appeared at about 1987, he was already working in a theatre, won all-Russian competition in Perm, all-Union in Baku, then international in Toulouse and started giving concerts in Krasnoyarsk, in the organ hall. I remember there was a moment, we came together to his concert, I was allowed to pass, and he was not. I said, he was with me. The security guard could not even think that such a young boy would give a concert.'

A photo from the Museum of Krasnoyarsk railroad.
Dmitry Hvorostovsky with brother Alexey Zarkhin on demonstration. Krasnoyarsk, 1974.
A tradition of Hvorostovsky family was to go to the demonstrations twice a year, on May 1 and November 7. Children and adults walked in a column, and then gathered in grandparents' flat on 10 Gorky street (the centre of Krasnoyarsk, - the Editor's note), and celebrated.

A photo from the Museum of Krasnoyarsk railroad.
A solar eclipse. 1981.
July 31, 1981, the solar eclipse. Both families – Dima's parents and Alexey's family went out a hundred kilometers from Krasnoyarsk to view a full solar eclipse.
On the photo: Alexey, Dmitry, Alexey's mother and her husband, Dima's mother Ludmila Petrovna.
'And there is no Dima's father, so he takes the photo of us,' recalls Alexey. 'Take a look, everyone is looking at the sun through protecting glasses, but Dima is not.'

A photograph from the Hvorostovsky family archive.
London. 2017.
'These photos were taken on October 16, 2017 on the last Dmitry's birthday.'
Dmitry with his mother Ludmila Petrovna and daughter Sasha.

A photograph from the Hvorostovsky family archive.
'Dmitry with children: Maksim, Sasha, Nina and Maria – the adopted daughter. There were many guests from different countries (around 30 people). In a month Dima would die.'
BY THE WAY
At first Dmitry Hvorostovsky wanted to enter a medical institute
Dmitry's mother was a doctor by training and profession. Therefore during school years Dima was saying that he was going to enter a medical institute too (he never wanted to be an engineer like his father, he was not good at exact science). However, what came very easy for him and fascinated him was music. Dmitry's parents told how a choice of the institute had happened. Dmitry with his mother were standing on a bus stop and waiting for the bus. If the first one to come went in the direction of the medical institute, Dima would become a doctor, and if it went in the direction of the arts institute, an artist. Fortunately, the first bus was the right one. Though that day his documents were not accepted in the institute, it was said that it was necessary to have specialized secondary musical education. So now his father 'took Dima's hand' and took him to Gorky Music pedagogical school. At that moment exams had already been over and thanks only to Dmitry's talent and persistence of Alexandr Stepanovich the exception was made.
'Let's begin with the fact that Dima did not want to get into any university,' says Alexey. 'He just wanted to play, sang in a vocal-instrumental ensemble. His music memory was very well developed, it was enough for him to listen to a melody once, and he could write the notes down. I believe if there had not been a singing father, there would not have been a singer Dmitry Hvorostovsky. Singing was a hobby of Alexandr Stepanovich, he learnt singing, coached musical clubs, accompanied, because he had perfect piano skills and by some expert estimates his voice was no worse than Dima's. But if uncle Alex had been making himself by hard work, Dima's talent was from God. By the way, Dima communicated with his parents e-ve-ry day! He discussed all his plans, asked for his father's advice specifically in musical sense. Dima reached such peaks, his father many years had worked as a chemical engineer on a radio factory, but they were on the same page, on the same level of musical perception. Dima valued father's advice, and if father praised his work – it was a real joy for him. "You have given not enough here, sang for not long here" – such were pieces of advice to his son.
How will Hvorostovsky be memorialized in hometown
Alexandr and ludmila Hvorostovsky will come to Krasnoyarsk when all questions of a memorial installation and urn of ashes placement are settled;
The option of making an open flat-studio in grandmother's flat on 55 prosp. Newspaper 'Krasnoyarskij Rabochij" is being discussed (really, other people live there now). But there are certain doubts, 'It is possible to re-establish the décor, but the question is who of the city guests will go to the right bank, to Michurin street,' relatives reason. In any case, the discussions are being conducted, family do not force events, but they are also asking those who are responsible for making a decision not to make a delay, 'there is only one request – to appoint the date of burial as soon as possible. And where and how - it is a different question...'.
By the way
Hvorostovsky family (Dima with parents) first lived on 26 Baku commissars street in a communal apartment, then moved to a flat on Pavlov street. Dima lived there as well as in maternal grandmother's flat, on 55 Krasnoyarsk worker street. There, to grandmother Maria Nikolaevna, he was brought from a maternity home, there he finished school №94, on Michurin street. He was coming from Pavlov street to school, after classes was going to grandmother's, did homework, this flat went through all his childhood.
When Dmitry became laureate at competitions, the administration of province allocated him a flat in the building, where the hotel "Oktyabrskaya" is now. He lived there before he left first for Moscow, then for London. His parents moved into the flat, and live here still, when come to Krasnoyarsk. Permanently they live in Moscow, in a flat which also belonged to their son.
Translated by «English Exspress» studio, Novosibirsk